Gourmet Halloween favours
Posted on: February 7, 2011, by : amiss

Don't feel like spending the entire day before your party in the kitchen? I don't blame you. I've done it, only to see all of the cupcakes go uneaten, while the roasted pumpkin seeds (which take, what, ten minues?) are devoured within minutes. Figures.

Though it can be more expensive, buying delicious pre-made desserts and favors pays off by allowing you time to get ready and enjoy your own party. And you don't have to spend a day in the kitchen creating them.

My favorite party giveaway is a caramel apple. Usually, I make my own, but look at these fabulous Halloween caramel apples from Mrs. Prindable's. This is a brand I've grown up with, since it's based in Illinois, and I was right across the border in Michigan. The apples are enormous, coated in caramel, and they're dipped or drizzled in delicious chocolate. Slice them into wedges and serve on a platter, or give one to your best-costume winner. Mrs. Prindable's ships all over the country, and the apples arrive in chic purple boxes with holiday-appropriate ribbons. Love it!

Look at these gorgeous offerings for this Halloween:
Don't like apples? Check out these caramel patties dressed up in spiderwebs: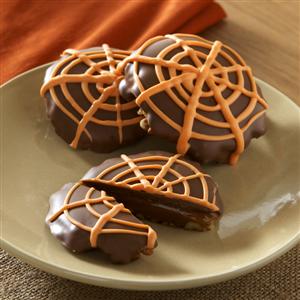 Psst. Mrs. Prindable's apples are also fabulous Christmas morning with hot chocolate. Easiest around-the-tree meal you'll ever make.