Great finds of 2010
Posted on: January 15, 2010, by : amiss

This year, I found a few items that I never realized I couldn't live without. Here's the roundup: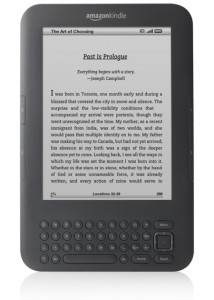 Amazon kindle with 3g and wifi
I made fun of the Kindle relentlessly when it was first released. "Who wants to read off of a screen?" I asked everyone, until I saw the screen up close in Walmart (I thought it was a fake demo screen until I pushed a button and it reloaded). It truly reads like paper, and the ability to adjust font size is something you can't get from a paperback. Sure, it cuts down on the glory of claiming you've read everything in the bookshelf, but think about this: you can download thousands of free books straight to your Kindle without getting out of bed.
Image borrowed from www.roadfood.com

Italian hoagies
I'd never tried an Italian Hoagie until a friend told me I was missing out, so I ordered one from Erma Deli and haven't looked back. Think salami, capicola, provelone, lettuce, tomato, onion, oil, and vinegar on a hoagie roll (that's a "sub" for those of you in the Midwest; I moved so I had to adapt). Yum.
Dove damage therapy intensive repair conditioner
This stuff rocks! First, it's dirt cheap compared to systems on infomercials and sold in salons (around $5 for 12oz.). It makes my usually puffy, dry hair feel smooth and controlled, and it's super lightweight. It even smells great!
I've started using it as my every day conditioner, and it's keeping the split ends at bay.