Vinyl & wallpaper cutouts
Posted on: October 7, 2010, by : amiss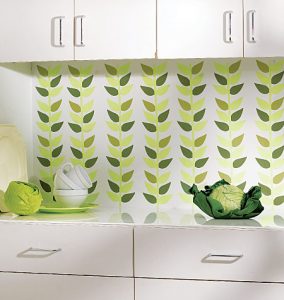 If you've seen vinyl or wallpaper cutouts at the craft store, chances are you (like me) walked right past them, since the majority seem to focus on flowers or seashells or kids' themes. The Wallies company has a few which are more modern and traditional, and can fit into even sophisticated decor. They're a cheap (we're talking under $10 for a pack of small cutouts) way to update tile back splashes, cabinet doors, kitchen canisters, create cheap artwork, and even update an indoor flower pot. Here are my favorites from their current online selections.
Mod Leaves (wallpaper cutouts), Slate Gray Chalkboard & White Dry Erase (vinyl peel and stick squares) for a modern look
Wine Tasting (wallpaper cutouts) and Painted Roosters (wallpaper cutouts) for a French country look.
My updated tile backsplash, using a Wallies pattern featuring various types of olives written in French (now sadly discontinued). It took less than 10 minutes to apply them, and they've stayed in place for over three years. Visitors to my house think they're custom tiles. Mission accomplished!